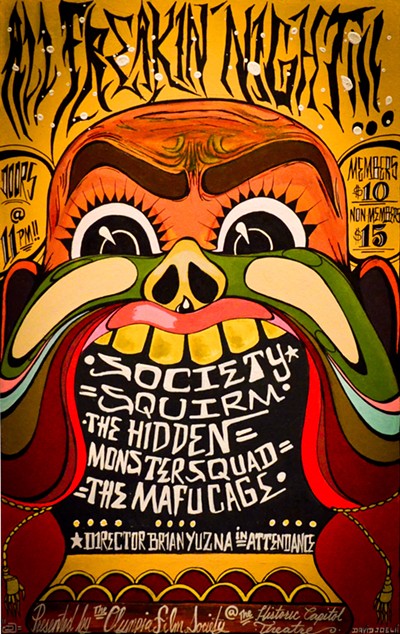 Cine-freaks, rejoice! The time is once more nigh for another spectacular spectacle of movie mania. All Freakin' Night 2011 has a lineup that only a fool would miss! A FOOL! Your guts may quiver, your jaw may fall to the floor in fear and repulsion, your sanity may cling to the oasis provided only by an occasional glimpse of boob, but you will emerge mighty and invigorated. As Friedrich Nietzsche wrote, shortly before spending the last ten years of his life catatonic in an insane asylum, what doesn't kill you makes you stronger. So, what are you? Yellow?
Besides, we've taken precautions: out of nothing but concern for your fragile sanity, local comedians will lull those who arrive early into a false sense of security with the Laugh While You Can! pre-show, granting a few fleeting moments of joy before your lives descend into a nightmare spiral of madness and perversity. And at the end, those brave enough to survive the night will be rewarded with a pancake, bacon, and blooooooody mary breakfast, provided, of course that you still have any appetite left. So come and get your yearly fix of freak. It's good for you.

Director Brian Yuzna will be in attendance to the Society
Full passes excludes these Special Events:
We Need to Talk About Kevin (NW Premier), and La Pivellina (benefit)

Partial passes excludes these special events:Opening Night, We Need to Talk About Kevin (NW Premier), and La Pivellina (benefit), and All Freakin' Night

An individual ticket is required for admission.
Mourning After ZOMBIE PARADE With Artesian
Rumble Arkestra
to THE CLIPPER at 402 4th Avenue East Olympia, WA 98501 for Pancakes and make your own
Bloody Mary Bar
ALL AGES! CARTOONS!
10:00am -1:00pm
$6.00 for breakfast proceeds from breakfast benefit the Olympia Film Society!
Run time: unknown
Tickets & Schedule
Whoops! Couldn't find any results that matched your search.
Please try again, or
start over
.