La Pivellina
directed by Tizza Covi, Rainer Frimmel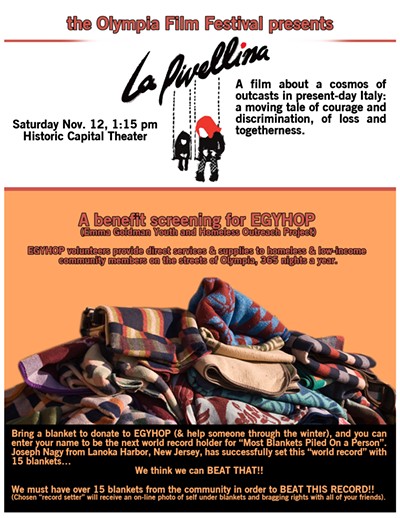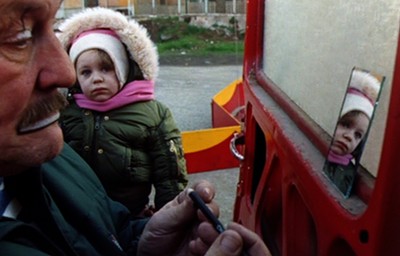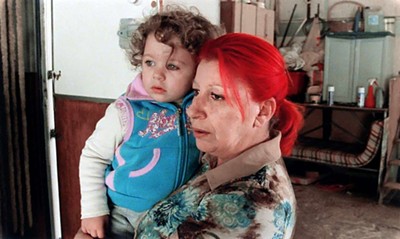 La Pivellina opens with a flame-haired middle-aged woman searching for her dog. She finds an abandoned little girl instead, played by an unbelievably adorable 2 year-old named Asia Crippa. The red-haired lady takes the child home to a trailer park that is inhabited by a band of itinerant circus performers, and they gradually begin to incorporate this new addition into their fragile, tenuous lifestyle. Shot documentary-style with a cast made up of real circus folk on the edges of Roman society, La Pivellina is an incredibly charming look at an unglamorous existence. The New York Times' Jeanette Catsoulis calls it "gentle", "captivating", and "grittily evocative", Eye Weekly (in a five star review) names it "one of the year's most delightful finds", and The Village Voice praises the film for "celebrating the weed-like resilience of the have-nots". La Pivellina comes to the Olympia Film Festival fresh from a six month run at a single theater in Buenos Aires and screens as a benefit for the Emma Goldman Youth & Homeless Outreach Project.


Bring a blanket to donate to EGYHOP (& help someone through the winter), and you can enter your name to be the next world record holder for "Most Blankets Piled On a Person". Joseph Nagy from Lanoka Harbor, New Jersey, has successfully set this "world record" with 15 blankets… We think we can BEAT THAT!! We must have over 15 blankets from the community in order to BEAT THIS RECORD!! (Chosen "record setter" will receive an on-line photo of self under blankets and bragging rights with all of your friends).
Full passes excludes these Special Events:
We Need to Talk About Kevin (NW Premier), and La Pivellina (benefit)

Partial passes excludes these special events:Opening Night, We Need to Talk About Kevin (NW Premier), and La Pivellina (benefit), and All Freakin' Night

An individual ticket is required for admission.
Run time: 100 min. | Austria, Italy | 2009
Genres: Drama, Foreign
Directed By: Tizza Covi, Rainer Frimmel
Tickets & Schedule
Whoops! Couldn't find any results that matched your search.
Please try again, or
start over
.